Award-winning anti-malware with centralized deployment, management
and reporting.
A layered security model begins with best of breed anti-malware. Because Kaspersky has
long been known as the leader in detection and removal of malicious software, there is
no better foundation. The Kaspersky Endpoint Security for Business 'Core' tier is centrally
managed by the Kaspersky Security Center and is assisted by the cloud-based Kaspersky
Security Network.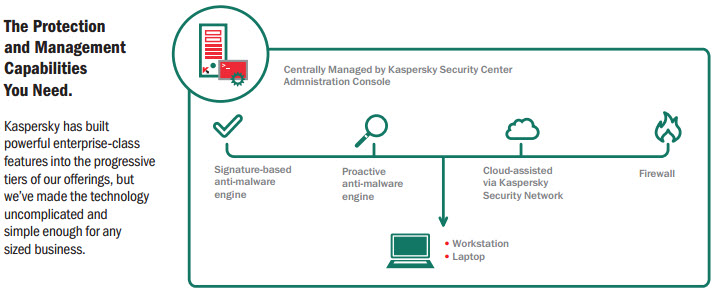 Features included :
• Anti-Malware
• Firewall
• Cloud-Assisted Protection via Kaspersky Security Network
• Centralized Management via Kaspersky Security Center
Key Features:
PowerFul endPoint anti-Malware
Kaspersky's scanning engines operate at multiple levels in the operating system, rooting
out malware.
Cloud-assisted Protection
With the cloud-based Kaspersky Security Network, users are protected in real time against new threats.
Centralized Management
Administrators can remove existing antivirus software, configure and deploy Kaspersky,
and perform reporting — all from the same console.
You can see other product of Kaspersky For Business